If you've been to one of my classes recently, I've been known to blab on and on about movies, restaurants, newest coffee shops, just the latest in and around town to keep our minds off of what we are really doing – working out!  Haha!  Ask any of the members, it works!  After all the gabbing, people comment "WOW!  That went by fast!"  I agree.  My latest blabfest is about recipes.  I've been using this one a lot that I got off of Pinterest awhile ago, especially to help my husband with his work eating habits…
OVERNIGHT PROTEIN OATMEAL (serves 1)
Base recipe
1/4 cup rolled oats
1/4 cup almond milk (or whatever your dairy/non-dairy of choice)
1/4 cup nonfat greek yogurt
1 T honey (or any sweetener like maple syrup/agave)
1 T power seed mix (a blend of ground flax seed, chia seeds, hemp seeds)
Fruit Combinations to add to the base recipe
1)  1/2 banana sliced with 1 T of peanut butter
2)  1/4 cup blueberries (or any berry of your choice)
DIRECTIONS
1) Grab a mason jar, add the oats, yogurt, honey and power seed mix. Shake vigorously for 10-15 seconds.
2) Open up the mason jar and add your fruit combinations of your choice, and stir in!
3) Seal the mason jar and refrigerate overnight!
4) ENJOY!!!!
Also, I've attached a version of it that I haven't tried yet and can't wait to!  Who doesn't love Cookie Dough???
Keep Snackin'!
XOXO, Jules
From Dashing Dish by Katie Farrell
Cookie Dough Overnight Oats
NOTES
This recipe makes two servings, so you can have a healthy breakfast ready to go two mornings in a row!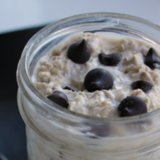 INGREDIENTS
1/2 cup plain nonfat Greek yogurt
3/4 cup unsweetened almond milk
1 cup old-fashioned oats
1/4 cup protein powder (or additional oats)
2 1/2 tablespoons maple syrup
1 teaspoon chocolate chips
1/2 teaspoon vanilla extract
1/2 teaspoon ground cinnamon
1/4 teaspoon ground nutmeg
1/8 teaspoon salt
DIRECTIONS
In a medium bowl, mix together the yogurt and almond milk. Add the oats, protein powder, sweetener, chocolate chips, vanilla extract, cinnamon, nutmeg, and salt, and stir to combine.
Divide between two small bowls, mugs, or mason jars. Cover and refrigerate overnight (or for at least an hour so the oats soften and absorb the liquid.) It can be served cold, or microwave for 30 to 60 seconds to enjoy warm.
Check out this article from registered dietitian and wellness manager Kristin Kirkpatrick, MS, RD, LD.
The best breakfast foods give you fuel in the tank for energy that lasts. They boost your metabolism, fight disease and help you keep your weight down. The worst breakfast foods do the opposite. They lead to mid-morning crashes, wreak havoc on your metabolism, encourage disease and cause weight gain.
You shouldn't skip breakfast — doing so can make you gain weight, lose energy and think poorly. But you should skip the worst breakfast options. If you see these five foods on the menu, run the other way.
1. Doughnut and pastries: A recipe for weight gain
Doughnuts will cost you 250–550 calories, but the 20–50 grams of sugar in each is the real problem. With such a huge amount of sugar in a small package, your body pumps out lots of insulin to accommodate. A huge blood sugar peak leads to an even bigger sugar crash. This extreme up-and-down leaves you hungry soon after your breakfast — and you'll crave more refined carbs. It's a vicious cycle of unhealthy eating that starts with the first doughnut.
2. Sausage biscuit: Hypertension's helper
The sausage biscuit is basically a saturated fat and sodium bomb nestled in a trans fat sleeping bag. If your blood vessels could talk, they would plead, "Please don't do it to us!" as you place your order at the fast-food drive-through. The sky-high sodium in the highly processed sausage can make your blood pressure surge. If you have hypertension, it may increase your risk for stroke. Nitrates and nitrites in sausage have been linked to increased risk in certain cancers, too.
3. Flavored non-dairy creamer: A coffee disaster
If you think non-dairy creamer is a healthy option, think again. Many non-dairy creamers simply swap saturated fat for trans fat (check the label for "partially hydrogenated" oil), plus sugar and artificial sweeteners. Trans fat increases your risk of heart attack and stroke by increasing LDL cholesterol. Predictions say decreasing trans fat consumption by even a little could help prevent more than 10,000 deaths a year. To perk up your coffee, try unsweetened vanilla almond milk, low-fat milk or a small amount of chocolate milk instead.
4. Bright, sugary cereals: A rainbow of hyperactivity
Those magically colored kids' cereals aren't such a bright choice. The FDA has noted that food dyes may contribute to hyperactivity in children with ADHD, even if not in other children. A 2012 study backed up that idea but said more research is needed. The UK and EU recently banned food dyes in food manufacturing; perhaps you should ban the fake stuff from your breakfast table. Even if food coloring's effects aren't fully understood, these cereals are usually loaded with sugar — empty calories for your little ones.
Morning Diet: Ditch the Sugary Cereal
5. Loaded bagel: An invitation for diabetes
Your body works hard to keep you functioning at night. Don't thank it with inflammation-causing calories in the form of a bagel loaded with cream cheese or butter. Except for the occasional 100 percent whole grain option, most bagels are 300–500 calories worth of starch. Slathering on cream cheese or butter adds more calories and saturated fat. Diets high in refined carbohydrates have been linked toincreased risk of type 2 diabetes and cardiovascular disease, so don't make bagels a regular morning meal.
WASHINGTON, June 27, 2013 – Agriculture Secretary Tom Vilsack today announced that under USDA's new " Smart Snacks in School" nutrition standards, America's students will be offered healthier food options during the school day.
"Nothing is more important than the health and well-being of our children," said Secretary Vilsack. "Parents and schools work hard to give our youngsters the opportunity to grow up healthy and strong, and providing healthy options throughout school cafeterias, vending machines, and snack bars will support their great efforts."
The Healthy, Hunger-Free Kids Act of 2010 requires USDA to establish nutrition standards for all foods sold in schools — beyond the federally-supported meals programs. The "Smart Snacks in School" nutrition standards, to be published this week in the Federal Register, reflect USDA's thoughtful consideration and response to the nearly 250,000 comments received on the proposal earlier this year.
"Smart Snacks in School" carefully balances science-based nutrition guidelines with practical and flexible solutions to promote healthier eating on campus, drawing on recommendations from the Institute of Medicine and existing voluntary standards already implemented by thousands of schools around the country, as well as healthy food and beverage offerings already available in the marketplace.
Highlights of the "Smart Snacks in School" nutrition standards include:
More of the foods we should encourage. Like the new school meals, the standards require healthier foods, more whole grains, low fat dairy, fruits, vegetables and leaner protein.
Less of the foods we should avoid. Food items are lower in fat, sugar, and sodium and provide more of the nutrients kids need.
Targeted standards. Allowing variation by age group for factors such as portion size and caffeine content.
Flexibility for important traditions. Preserving the ability for parents to send their kids to school with homemade lunches or treats for activities such as birthday parties, holidays, and other celebrations; and allowing schools to continue traditions like fundraisers and bake sales.
Ample time for implementation. Schools and food and beverage companies will have an entire school year to make the necessary changes, and USDA will offer training and technical assistance every step of the way.
Reasonable limitations on when and where the standards apply. Ensuring that standards only affect foods that are sold on school campus during the school day. Foods sold at afterschool sporting events or other activities will not be subject to these requirements.
Flexibility for state and local communities. Allowing significant local and regional autonomy by only establishing minimum requirements for schools. States and schools that have stronger standards than what is being proposed will be able to maintain their own policies.
USDA is focused on improving childhood nutrition and empowering families to make healthier food choices by providing science-based information and advice, while expanding the availability of healthy food.
America's students now have healthier and more nutritious school meals due to improved nutrition standards implemented as a result of the historic Healthy, Hunger-Free Kids Act of 2010.
USDA's MyPlate symbol and the resources at ChooseMyPlate.gov provide quick, easy reference tools for parents, teachers, healthcare professionals and communities.
USDA launched a new $5 million Farm to School grant program in 2012 to increase the amount of healthy, local food in schools.
USDA awarded $5.2 million in grants to provide training and technical assistance for child nutrition foodservice professionals and support stronger school nutrition education programs.
Collectively these policies and actions will help combat child hunger and obesity and improve the health and nutrition of the nation's children; a top priority for the Obama Administration. The interim final rule announced today is an important component of First Lady Michelle Obama's Let's Move!initiative to combat the challenge of childhood obesity.
Check out the recent article written  By SUSANNA KIM | Good Morning America – Wed, Jun 26, 2013 12:39 PM EDT
A recently published list of foods banned in countries outside the U.S. has riled the plates of many in the food industry.
Last week, Buzzfeed published a list of 8 ingredients banned outside the U.S. that are found in foods in America. The list was derived from the book, Rich Food, Poor Food: The Ultimate Grocery Purchasing System, written by husband and wife team Jayson Calton, who has a Ph.D. in nutrition, and Mira Calton, a licensed certified nutritionist.
Said Mira Calton: "We call it our GPS of grocery purchasing system: how to identify dangerous ingredients — so people can shop safe and smart in the grocery store."
The book includes a list of banned foods and dangerous foods, which they call "poor food."
Calton said manufacturers are not putting these ingredients in their food to be "bad people."
"It might have been part of their original formula and sometimes they don't know," Calton said.
The Food and Drug Administration assures the public that despite the frenzy over the list of ingredients banned in some countries outside the U.S., it is doing its job of monitoring food safety.
"As part of FDA's overall commitment to ensure the safety of the food supply, the agency uses an extensive, science-based process to evaluate the safety of food additives," the agency said in a statement to ABC News. "The law requires that the FDA determine there is reasonable certainty that an additive does not cause harm when it is used as intended. The agency continues to monitor the science on food additives and is prepared to take appropriate action if there are safety concerns. When determining that a food or ingredient is 'generally recognized as safe' or GRAS for its intended use in food, the same quantity and quality of evidence is required as is needed to approve a food additive."
Derek Lowe, a chemist who has a Ph.D. from Duke University, said the list is an example of "chemophobia." He told ABC News his reaction to the viral online list was "incredulity and revulsion."
"The thing is, I'm not reflexively saying people should eat all the food additives they can find. I don't myself. But the amount of understanding in the article was so minimal, it really pushed my buttons as a scientist," Lowe said.
The Caltons said they are not calling on the FDA to ban these ingredients, but they said "all of the ingredients on the list pose a potential danger to consumers and we feel the consumer should be made aware so that they can make an informed decision as to whether or not they want to buy a product with these ingredients."
Julie Jones, a professor emeritus with St. Catherine University in Minnesota and author of the textbook, Food Safety, said what drives one country to ban a food and not another often has to do with as much politics as it does science.
If one believes Paracelsus's principle, "the dose makes the poison," Jones said she believes these products have gone through the correct due diligence in the U.S.
"We have science and politics and they are different in each country," Jones said.
Here are 11 ingredients noted as banned in other countries and what some experts have to say about them:
Blue #1 food coloring
Banned in Norway, Finland and France, Blue #1 and Blue #2 can be found in candy, cereal, drinks and pet food in the U.S., the Caltons say.
Kellogg's did not reply to multiple requests for comment about its use of Blue #1 listed as an ingredient in some Nutrigrain bars.
Michael Pariza, professor emeritus of food science and past director of Food Research Institute at the University of Wisconsin-Madison, said most food dyes are not dangerous, with the exception of Yellow #5, but they can influence our perception of food — for better or worse.
"Taste, appearance and smell all go together. You can have the most fantastic, nutritious thing in the world, but if it looks bad and smells bad, you're not going to eat it," he said.
Blue #1 was at one point banned in several other European countries, but the EU later certified it as safe, said Lowe. Norway banned almost all food dyes from 1978 until 2001, but since then, they have had virtually the same regulations as the EU, he added.
Lowe said synthesized compounds, when used in food, "are often things that are effective in small amounts, because they're so expensive," as is the case with artificial dyes.
"People see the bright colors in cake icing and sugary cereals and figure that the stuff must be glopped on like paint, but paint doesn't have very much dye or pigment in it, either," Lowe writes in his blog.
Blue #2 food coloring
"Until the twentieth century, food coloring was obtained from natural sources," Jayson and Mira Calton write in "Rich Food, Poor Food." "People gathered spices, like saffron and turmeric, to add rich hues to their otherwise bland-colored foods. While this method may have been somewhat limiting in shades, at least it was safe. Today, most artificial colors are made from coal tar."
Blue #2 is listed as an ingredient in Mars' M&Ms. In a statement from Mars, the company said, "Around the globe there can be slightly different formulations and products available based on both local requirements and consumer preferences. All the colors we use in our products, no matter where they are sold, comply with our own strict internal quality and safety requirements as well as all applicable laws, regulations and safety assessments relating to colors added to food. All colors are declared on the label in accordance with applicable national laws and regulations and always meet the highest safety standards."
Lowe said the concern about blue food dye's connection to brain cancer is "unproven," referring to studies in the 1980s with Blue #2. Lowe said rats were fed the dye over a long period in much larger concentrations — up to 2 percent of their total food intake — than even the most dedicated junk-food eater could encounter.
"Gliomas were seen in the male rats, but with no dose-response, and at levels consistent with historical controls in the particular rat strain. No one has ever been able to find any real-world connection," Lowe wrote.
Yellow #5 (Tartazine), Yellow #6 food coloring
Yellow #5 is banned in Norway and Austria due to compounds benzidine and 4-aminobiphenyl, the Caltons say.
"Six of the eleven studies on yellow #5 showed that it caused genotoxicity, a deterioration of the cell's genetic material with potential to mutate healthy DNA," the book, "Rich Foods, Poor Foods," states.
Companies in the U.S. are required to list Yellow #5 in their ingredients because some people have sensitivity to it.
"Companies are so sensitive about allergies, but peanut allergies would be far more common than Tartazine," Pariza said.
Yellow #6 is banned in Norway and Finland, the Caltons say, but Lowe said the dye is approved across the EU.
Lowe said benzidine and 4-minobiphenyl are two different names for the same compound, which is known as a human carcinogen.
"But it's not a component of any food dye, certainly not of yellow #5, and it's not even any part of its chemical structure," Lowe said.
A spokeswoman for Kraft provided a statement to ABC News, stating, "The safety and quality of our products is our highest priority. We carefully follow the laws and regulations in the countries where our products are sold. So in the U.S., we only use ingredients that are approved and deemed safe for food use by the Food and Drug Administration."
The International Food Information Council has said food ingredients are "carefully regulated by the U.S. Food and Drug Administration (FDA) to ensure that foods containing them are safe to eat and are accurately labeled."
Red #40
"Red #40 may contain the carcinogenic contaminant p-Cresidine and is thought to cause tumors of the immune system," according to "Rich Food, Poor Food". "In the UK, it is not recommended for children," the Caltons write, but it is approved for use in the EU.
The ingredient can be found in fruit cocktail, maraschino cherries, grenadine, cherry pie mix, ice cream, candy and other products, the Caltons say.
Lowe said he can't find evidence for risk of tumors due to Red #40 and Cresidine "is certainly not a contaminant in the dyestuff" but is one pure compound.
"There is a possibility for cresidinesulfonic acid to be produced as a metabolite, but that's a very different substance than Cresidine itself," Lowe said.
Jones said high amounts of some ingredients could be damaging to some people, but that depends on the amount of consumption and the content of one's diet in general.
"Unless you are crazy and you do drink 8 liters of pop a day, your diet is so disordered already, no wonder what you eat is toxic– eating things in a way that never intended to be eaten," she said.
Kraft said, "The safety and quality of our products is our highest priority" and the company "carefully follow the laws and regulations in the countries where our products are sold."
Brominated vegetable oil
Brominated vegetable oil, or BVO, acts as an emulsifier in soda and sports drinks, preventing the flavoring from separating and floating to the surface. The ingredient is banned more than 100 countries because it contains bromine, a chemical whose vapors can be corrosive or toxic, the Caltons say.
Aurora Gonzalez, a spokeswoman for PepsiCo, which owns Mountain Dew, said, "We take consumer safety and product integrity seriously and we can assure you that Mountain Dew is safe. As standard practice, we constantly evaluate our formulas and ingredients to ensure they comply with all regulations and meet the high quality standards our consumers expect."
Lowe said the same chemical dangers of consuming a bromine directly can be said of chlorine.
Bromine-containing compounds can indeed cause bad reactions in people but not because bromine is a corrosive gas, he said.
"When a bromine atom is bonded to a carbon, as it is in BVO, it's no longer bromine-the-pure-element, any more than the chlorine in table salt is the World War I poison gas, or the phosphorus in your DNA is the burning white phosphorus found in military tracer shells," Lowe said.
Azodicarbonamide
This ingredient, which can bleach flour, is banned in Australia, the U.K. and many European countries, said the Caltons, who call it an "asthma-causing" allergen. Up to 45 parts per million is considered safe in the U.S. and it's found in a wide range of breads and baked goods here.
While Lowe acknowledges the chemical can be used to "foam" foamed plastics, "the conditions inside hot plastic, you will be glad to hear, are quite different from those inside warm bread dough," he said. In that environment, azodicarbonamide doesn't react to make birurea – it turns into several gaseous products, which are what blow up the bubbles of the foam, which is not its purpose in bread dough.
While repeated or prolonged contact to the chemical may cause asthma and skin sensitization, Lowe said that refers to the pure chemical and not 45 parts per million in uncooked flour.
"If you're handling drums of the stuff at the plastics plant, you should be wearing protective gear. If you're eating a roll, no," Lowe writes.
Potassium Bromate (Bromated flour)
Potassium bromate, which strengthens dough, contains bromine, is also in brominated vegetable oil.
"The good news is that American bread manufacturers tell us that it disappears from the product during baking and deem that potassium bromate is safe as there is only negligible residue," the Caltons write in their book. "However, the pastry chefs in Paris disagree. In fact, government regulatory bodies in Europe, Canada, China, and many other regions have banned the use of this additive. In California, if potassium bromate has been added, a product must carry a warning label."
Lowe points out that bromate is different from bromide and bromine.
"Chloride is the anion in table salt, but it's also the anion in hydrochloric acid. Hypochlorite anion is laundry bleach," said Lowe. "Perchlorate anion is in solid rocket fuel. They're all different; that's the point of chemistry."
Olestra (Olean)
Olestra fat substitute is banned in the U.K. and Canada because it causes a depletion of fat-soluble vitamins and carotenoid, the Caltons say, "robbing us of vital micronutrients that our foods should be delivering."
It is found in Ruffles Light and Lay's WOW chips. Frito-Lay did not return a request for comment about its use of Olestra.
Lowe acknowledges that the non-caloric fat substitute interferes with the absorption of fat-soluble vitamins, "but potato chips are not a very good source of vitamins to start with," he writes.
He also points out that Olestra is found only in two brands of potato chips, "since it was a major failure in the market."
"And vitamin absorption can be messed with by all kinds of things, including other vitamins (folic acid supplements can interfere with B12 absorption, just to pick one). But I can agree with the plan of not eating the stuff: I think that if you're going to eat potato chips, eat a reasonable amount of the real ones," he writes in his blog.
Butylated Hydroxyanisole (BHA) and Butylated Hydroxytoluene (BHT)
Banned in England, and other European countries, "these waxy solids act as preservatives to prevent food from becoming rancid and developing objectionable odors," the Caltons write.
The state of California lists this ingredient as a possible carcinogen.
General Mills did not respond to a request about its use of BHT in Chex cereals.
Lowe said that BHT is approved by the EU and, "Animal studies notwithstanding, attempts to correlate human exposure to these compounds with any types of cancer have always come up negative."
rBGH and rBST
Recombinant bovine growth hormone and recombinant bovine somatotropin, a synthetic version of bovine growth hormone, can be found in nonorganic dairy products unless noted on the packaging.
"However, several regions, including Australia, New Zealand, Canada, Japan, and the European Union, have banned rBGH and rBST because of their dangerous impacts on both humanand bovine health," the Caltons say.
American dairy producer, Stonyfield, opposes the use of rBST because of economics and cow health.
"An increase in milk supply generally leads to a drop in the price paid to farmers," Stonyfield says on its website. "Price drops have put many farms out of business."
In 1993, the FDA approved the use of rBST in dairy cows based on a review of existing scientific studies.
Beth Meyer, a spokeswoman for the American Dairy Association and Dairy Council Inc (ADADC), a regional organization representing dairy farmers in New York, northern New Jersey and northeastern Pennsylvania, said over the last 20 years rBST has been heavily researched and separate reviews by the National Institutes of Health, the joint World Health Organization/Food And Agriculture Organization Committee, the American Medical Association, as well as regulatory agencies in Canada and the European Union have corroborated the FDA's conclusion.
"RBST is one of many management tools used by U.S. dairy farmers to provide a safe, affordable food supply," she said.
Canada and several European countries have affirmed that milk produced from rBST cows is safe for human consumption. These countries don't allow the sale of rBST to local farmers for reasons including economics, social customs and general opposition to technological advances used to promote efficient food production, not human health concerns.
Bovine growth hormone (rBGH) is given to dairy cattle to increase milk production, Lowe said, and BGH levels in the milk of treated cows are not higher than in untreated ones.
"Secondly, BGH is not active as a growth hormone in humans – it's selective for the cow receptor, not the human one," he said.
Lowe points out BGH was banned in some countries due to animal welfare concerns. "As far as human health, there doesn't seem to be any evidence it's bad for humans," he said.
Arsenic
The Caltons warn about traces of arsenic, which has been banned in all foods in the EU, that can be found in some chicken feed.
Last month, Johns Hopkins University scientists said they found amounts of arsenic in chicken that exceeded naturally occurring levels.
But the National Chicken Council says chickens raised for meat or broilers (for meat production) are no longer given any feed additives containing arsenic.
"Broilers used to be given a product called Roxarsone which contained trace amounts of arsenic, but it was pulled from the market in 2011 and is no longer manufactured. No other products containing arsenic are currently fed to broilers in the U.S." said Tom Super, spokesman for the council.
Lowe points out that 100 parts per billion of inorganic arsenic have been found in white rice, though he said that doesn't pose a human health risk.
Arsenic can be found in groundwater supplies in a number of countries, according to the World Health Organization.
"It's very hard to have a diet anywhere in the world that doesn't have a trace amount of arsenic," Jones said.
Here's a great list to carry with you while you are in the grocery store – article by Mary Crimmins.
Perhaps you have heard of this before, every year theEnvironmental Working Group puts out a list of their top chemical residue offenders. They test for the highest levels of pesticides, herbicides, and insecticides.
I love lists like this because it can be really challenging to navigate when we should buy organic and when it's ok to buy conventional. Of course you already know my opinion: buy organic (certified or not) and local. However, I realize that sometimes the real looks very different from the ideal.
This year there are a few new offenders on this list including cherry tomatoes and hot peppers, so make sure to stay clear of those. Plus, if you notice most of the offenders are fruits and vegetables with thin skins. This means that those toxins have an easier time getting into the produce itself. You might also notice that there are 2 other offenders, that could have easily made it onto this list: summer squash and kale or greens.
The cool thing that the EWG does, is offer an alternate list of the Clean 15. These are the items that have the lowest levels of toxic chemicals. So if you must, you can feel pretty good about buying these conventional. What's interesting is that these are all the same from last year except for papaya. So now you can add the delicious papaya to those "safe" fruits to grab conventional.
Overall, make sure that you are informed when you hit up the grocery store. Be aware that even if you do choose to buy conventional on some of the Clean 15, you still have chemical residues. So make sure to wash, wash, wash before you eat. And don't forget there are now many affordable organic options available, including store brands like Kroger's line Simple Truth or Whole Foods line 365.
Tip: Print these off and keep them in your purse so you always have the list with you at the grocery store. 
Since my kids have gone to our school, they have been extremely curious about starting a garden at home.  The elementary classes have all started their own classroom garden box full of differents fruits and vegetables.  They have already had carrots from their garden, and I think green beans.  Since doing so, my youngest has started his own garden in the backyard.  He got a starter kit for his birthday last year and it's almost a year old.  We've grown rainbow chard, peppers, strawberries, eggplant, cilantro, and tried planting some random lemon seeds to see what would happen.  To date, the only thing that is still thriving are the strawberries, cilantro, and chard.  My problem is that I am in no way  a "green thumb" and feel like this is one subject I need to learn in order to help him in his quest to eat from "our own garden."
I am proud to say that it's been over a year since we've starting composting in our backyard, however I haven't used any of the soil that we've created.  I see myself scratching my head thinking, "Do I just sprinkle it over the already existing garden?" At least we have a place to put all of our fruit and veggie peels and seeds, one less thing that goes into our garbage and ultimately in our landfills.  The kids also started a worm compost bin in their K/1 class, and so far so good… I'm glad I opted for the regular compost bin, and not the worm bin because that would mean one more thing to try to keep alive!
I've also started teaching the kids about the nutrition labels.  They now are "aware" of the labels, and what calories are, they read into the total fat, transfat, sodium, sugar, and the vitamin content.  They usually will compare their drinks with each others and say whose is more healthier.  LOL.  This is just about educating, not trying to give them a complex about eating, but knowing what choices are out there and how to make a better decision knowing what the labels are intended for.
Below is an article posted by Kevin Concannon, Under Secretary for Food, Nutrition and Consumer Services
USDA recently announced its "Smart Snacks in School" proposal that will help to ensure all foods and beverages sold in schools contribute to a healthy diet. The proposal offers a common sense approach to healthy eating by promoting the availability of snack foods with whole grains, low-fat dairy, fruits, vegetables or protein foods as their main ingredients, while preserving time-honored school traditions like occasional bake sales and birthday treats.
Parents and teachers work hard to instill healthy habits, and our proposal reinforces that hard work by ensuring that kids are offered only tasty, nutritious food options at school. Thanks to the Healthy, Hunger-Free Kids Act of 2010, this year students across the country began getting healthier school meals with more fruits and vegetables, whole grains, and low-fat dairy based on scientific recommendations for nutrition. Through the Act, Congress also directed USDA to set nutrition standards for all foods sold in schools, including vending machines, school snack bars and a la carte, as a complement to the new, healthy standards for breakfast and lunch.
We responded by carefully reviewing expert recommendations from sources such as the Institute of Medicine and the 2010 Dietary Guidelines for Americans; talking to parents, teachers, and nutrition and health professionals; and taking stock of the good work already taking place across the country. Tens of thousands of schools are already moving in this direction through voluntary initiatives like the Alliance for a Healthier Generation (AHG) and USDA's HealthierUS Schools Challenge. USDA used the AHG nutritional baseline as a model in developing these new standards.
The intent of the proposed standards is not to limit popular snack items, but instead to provide snack foods for students that are healthier. For example, chips would still be allowed, in healthier versions such as baked tortilla chips, reduced-fat corn chips, and baked potato chips. Many products being sold in schools already meet the proposed standards or are very close to these standards, and the rule allows for a transition time for schools and the food industry to make the necessary adjustments to the school food environment.
To help folks gain a better understanding of how this proposal would change snacks sold in schools we put together this factsheet and a series of frequently asked questions with information about the proposed rule.  The comment period for the proposal is open for 60 days. We encourage you to read the proposed rule and provide feedback and comments at regulations.gov (direct link).
If you think obesity isn't a dire problem in America, think again. The statistics below prove just how critical this epidemic has become.
The annual healthcare costs of obesity in this country are $147 billion a year. This could rise to as much as $344 billion by 2018, according to one major study.
Obesity has become one of the most expensive health problems in America today, surpassing smoking, according to a study in Health Affairs.
Two-thirds of Americans are overweight, although 85% of Americans characterize their lifestyle as somewhat/very healthy.
Obese employee sick days total approximately 39 million workdays and 63 million doctor visits yearly.
12 million Americans are considered severely obese, defined as more than 100 pounds overweight.
Nearly a third of the children in this country are overweight and some experts believe up to one third of children will suffer from diabetes at some point in their lifetime.
For the first time in the history of our nation, some medical experts warn that this younger generation may be on track to have a shorter life span than their parents as a direct result of the obesity epidemic.
The average child gets less than 15 minutes of vigorous activity a day.
The average U.S. child gets approximately 43 minutes of moderate physical activity a day.
The average U.S. child spends 20% of his/her waking time watching TV.
Obesity and super-obesity are up 36% and 98%, respectively, in the past 20 years.
The average child consumes at least 20 ounces of soda pop a day.
Nine out of ten parents think their children are fit, when only one out of three are.
Thirty percent of youths (10-19 years) have negative or neutral attitudes towards physical activity.
In a typical physical education class, only 27% of actual physical education time is devoted to motor activity.
The facts are alarming to say the least.
Jak B Healthy is making a difference!  We are installing healthy vending machines and delivering healthy snacks into schools, gymnastics studios, martial arts schools, businesses, health and wellness centers, fitness centers, community centers, and more.  We hope to replace existing vending with healthier options!  If you think your community can benefit from then contact us.
Check out First Lady Michelle Obama's campaign "Let's Move" at www.letsmove.gov and see how you can get involved.